Natural beauty
A single protected source, the Hildon Estate is surrounded by 160 acres of unspoiled nature.
---
Our doorstep is home to an array of peaceful wildlife. From soaring birds of prey to dozing deer and curious rabbits, animals are free to roam, rest and run to their hearts' content. As a safe haven for such diverse fauna, we feel it's our duty to continue to take care of our remarkable catchment area.
Environmentally conscious
---
As corporate members of our local Hampshire and Isle of Wight Wildlife Trust, we are committed to maintaining the beauty of our Estate and local community for generations to come. Alongside the installation of solar panels and owl boxes, the removal of diesel storage and beekeeping, we continually educate our team on the importance of environmental good practice.
Our dedication to sustainability is ingrained within our DNA, which is why it won't come as a surprise that we are on a mission to become the most eco-friendly Natural Mineral Water. When it comes to comments or suggestions about how we can be kinder to the environment, we're all ears.
A pristine source
The science of Hildon Natural Mineral Water happens below the surface.
---
The unique taste of our water derives from over 5 decades of filtration and purification. Nothing is added or changed at the bottling stage, with the exception of a little carbonation to create our Gently Sparking range.
Certified quality
Our quality management systems are externally audited by a UKAS accredited company.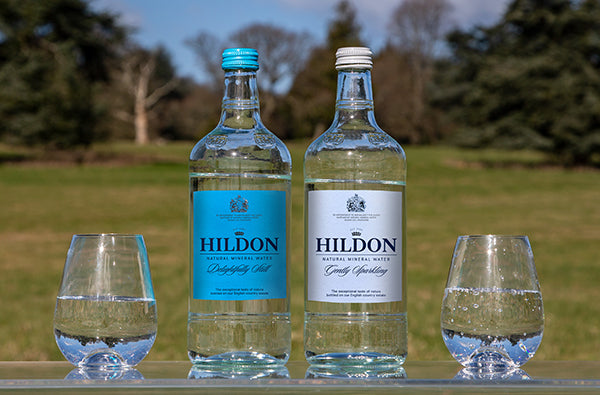 As nature intended
Our natural filtration system avoids the medicinal taste sometimes associated with mineral waters.
Integrity and transparency
Our composition is consistent, meaning you know exactly what you're drinking, down to the precise levels of calcium, nitrates and minerals.
From a single, protected source to our pristine taste
---
Stage 1
Rain water falls onto the lush English countryside on our Estate and commences its fifty year journey to our aquifer.
Stage 2
The water passes through multiple layers of porous rock which removes any impurities and imbues the water with beneficial minerals.
Stage 3
Having acquired its unique, balanced taste, the water reaches our underground aquifer ready for extraction.
Stage 4
The water remains untouched underground until it reaches our bottling plant on the Hildon Estate.
Stage 5
Hildon Natural Mineral Water is stylishly bottled in the same pristine state as when it first reached the aquifer.
Hildon House, Broughton, Hampshire
Surrounded by 160-rolling acres in the South of England.
---
An architectural masterpiece, Hildon House stands magnificent amongst the beautiful Hampshire countryside. At the heart of the single, protected source from which we pride the unique taste of Hildon Natural Mineral Water, is a property steeped in tradition we call our home.
Supporting our local community
---
No company is an island. We recognise that our Estate forms part of the wider Hampshire community, which is why we are dedicated to contributing to local charities such as children's hospice Naomi House and Jacks place. The first Natural Mineral Water company to declare its ethical stance, the Hildon Foundation has donated thousands of pounds to individuals and worthy causes since its inception in 1990.
To keep up to date, or learn more about our community outreach events and initiatives, please visit our news page or follow Hildon on social media.